"My vision is that my clients discover their unlimited potential and harness it to manifest their dreams."
– Joyce Cowfer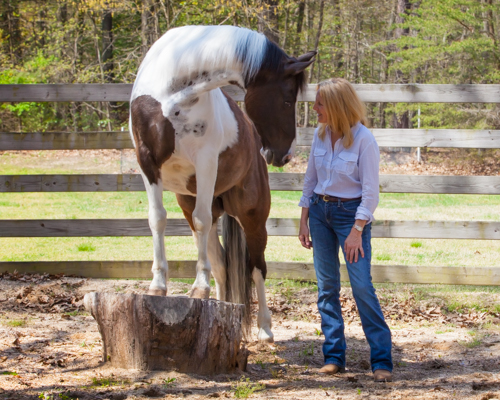 As the founder and director of Unbridled Possibilities, Joyce is living her dream of making a positive difference in the world by helping others to achieve the "life they have imagined" through the wisdom of horses. She melds her two identities of coach and horse trainer to bring her clients a unique experience. She utilizes mindfulness-based practices, somatic awareness and the human-horse bond to create positive growth and change. You can partner with the horses of Unbridled Possibilities or bring your own horse and experience the connection that takes place when you are truly present and your intentions are authentic.
Her journey to becoming an EGCM coach began when she discovered research on a relatively new and experiential movement which involved horses and human development. She researched the various groups who did this work but felt the Touched by a Horse program offered the most comprehensive training: 18 months of curriculum, eight 3 ½ day workshops, weekly teleconferences, an extensive reading list, etc. After attending the first workshop and experiencing the EGCM method, she now saw horses not just as riding partners but as teachers, coaches and even healers.
Joyce is a graduate of the internationally recognized Touched By A Horse Certification Program where she studied directly with Melisa Pearce, founder of the Equine Gestalt Coaching Method™ (EGCM). This method of coaching involves the horse as an active partner. EGCM is a holistic approach and has been proven to assist clients in moving past blocks and obstacles in their lives. Watch our explanatory video or go to http://www.egcmethod.com to learn more about EGCM and its benefits.
EGCM – Unbridled Possibilities from joyce on Vimeo.
In addition to being an EGCM coach, Joyce is also a Certified John Lyons Horse trainer. Joyce studied directly with Josh Lyons (John's son) who has taught the Certification program for the last 17 years. The Lyons' training methods are the 'Gold Standard' in the horse training world. These training practices have stood the test of time and do not involve gimmicks or special devices. This method of natural horsemanship consistently sets the horse up for success. Safety for both the horse and rider are at the heart of the program. Follow these links to see some of Joyce's training methods: Click here to watch Joyce's trailer loading video. Click here to watch Joyce's ground manners video. If you rode when you were younger but have been away from horses for a while, or you are getting into riding later in your life, or you are dealing with a confidence issue due to fall or traumatic experience with a horse, Joyce specializes in clients like yourself. As a horse trainer, Joyce's focus is to build confidence and strengthen the bond between horse and rider.
"They have so much to show us if only we will be still and truly listen, we will hear the whispers from the horse."
– Joyce Cowfer