Experience Ireland through the Wisdom of Horses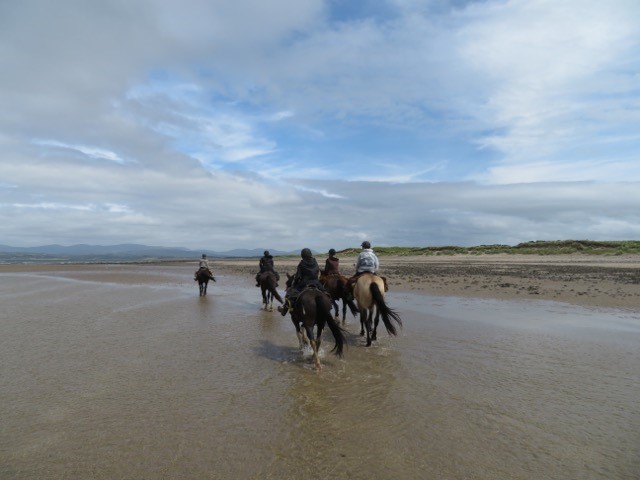 Opportunity of a lifetime you deserve.  Christina and Joyce offered a safe, fun adventure full of introspection, depth and freedom to explore and what could be better than doing this on horseback? The horses are amazing and so was the journey. Thank you both for your wisdom and the many offerings to grow and learn. Full of gratitude.
Lin L.
Are you ready for an adventure of a lifetime? As a horsewoman, you know the power horses have to transform your life.  This is your opportunity to connect to your authentic self through the wisdom of horses in one of the most magical places on earth, Ireland. Travel with guides and horsewomen, Joyce Cowfer and Christina Stinchcomb and a small group of like-minded women to explore the Irish countryside on horseback.
Ride from B&B to B&B, with your belongings in your saddlebags.  Stop at the local pubs, gallop along the beaches, travel down country lanes and wooded trails taking in the magic and beauty of Ireland.
Your trip includes 4 days on horseback and 4 additional days exploring the beautiful Emerald Isle.
Cost: $3600 includes 4 days of riding, 9 nights of lodging (double occupancy) all breakfasts; all travel within Ireland, taxes and gratuities.
Group size is limited to 6. Participants must be:
In good physical condition (we will be in the saddle 4 to 6 hrs day)
Comfortable with English Tack
Able to saddle, groom and care for their horse
A confident rider (feel comfortable cantering a horse outside an arena).
Have a sense of adventure!
2017 Dates are July 17-27 | Call Joyce at 410.991.7872 or Christina at 443.480.7369 to Reserve your Spot Early!
The riding was arduous but immensely satisfying.  The bonding between riders grew and became truly inspirational and so fulfilling.  The vistas were never ending as far as he eye could see.  Cantering on the beach was exhilarating.. Learning to ride using English and posting became a non-issue as did living out of saddle bags.  Joyce and Christina brought the group together, helped tremendously with the horses and led us on a spiritual journeys.  The spiritual aspects of this trip added to the fullness of the experience in ways unimaginable.
Maureen
New to horses and interested in learning the basics? Are you ready to fill in the 'holes' in your equine education? Learn about horses and horsemanship by attending the Equine Studies 101 Webinars and hands-on Horse Camps. This program will give you the information you need to be a thoughtful, knowledgeable and confident horse owner and handler. Joyce co-created this special program with the internationally renowned horsewoman and EGCM founder, Melisa Pearce. This highly comprehensive training program is designed to give you a wealth of knowledge about horses that could take years to learn from any other method. Tuition is $2500 and can be made in 4 payments. The Program price includes: Eight Webinars Textbooks Workbook Two 5 day Hands-on
Horse Camps (limit 6 students)
Equine Studies 101 Horse Camps FULL for 2017 THANK YOU!
1st Camp will be in Maryland at the Unbridled Possibilities facility April 24-28, 2017
2nd Camp will be in Colorado at Lil Bit North Ranch September 20-24, 2017
Joyce and Melisa's camps are full, but there are ES101 Camps open at:
Amherst, VA
June 19-23 and August 21-27
The Horse Connection, LLC
Carolyn Fitzpatrick and Lauren Munger, camp instructors
Chestertown, MD
April 3-7 and October 2-6
Airy Hill Stables
Christina Stinchcomb and Suzanne Sears
Woodside, CA
May 3-7 and September 6-10
June 7-11 and October 4-8
Folger Stable at Wunderlich Park
Shawn and Anna Mott
Northern, CA
March 26-30 and August 27-31
Windhorse Full Circle Coaching
Deb Jackson and Lisa Lombardi
"Of all the clinics and programs I have attended and participated in, this has been the most informative and excellent preparation for horse ownership.  Beyond and art of this, horses are honored and celebrated for who they truly are." Deb J.
"If you are considering bringing a horse into your life for the first time, this program is essential. If you are looking to deepen your relationship with a horse already in your life, this program is essential. It will be the greatest gift you could offer your horse – and yourself!" Lorrin M.
"Deepening my ability to partner with horses will continue throughout my life.  I am certain that this past week in ES101 was one of my biggest growth spurts!" Joan S.
"I came in wanting to be more knowledgeable and confident.  I wanted to learn about caring for horses, while showing respect to the horse.  I've gained all of these facts and more.  I've walked away with a heart connected with their spirit ." Kathy O
"An extremely valuable experience even if you've had horses.  I've had horses over 20 yrs and now can finally say I have confidence when it comes to their care, first aid, etc." Bethany P.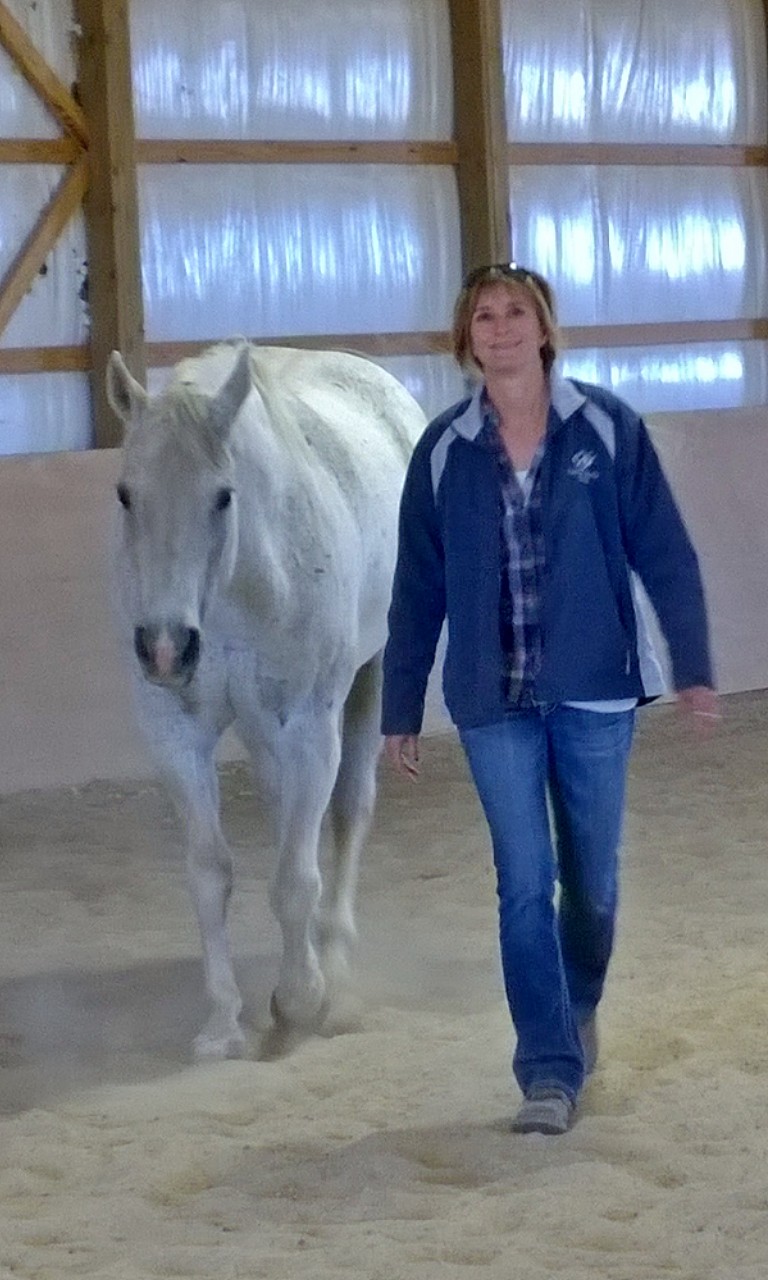 Do you remember riding in bliss … that ultimate freedom when you were so at one with your horse you could drop the reins and take off in a canter in total unity? Or maybe you've only found that moment in a dream … Now is the time to bring YOUR dream to life! Quiet your mind and enliven your heart with a horseback retreat in the mountains of Montana at the Bonanza Creek Ranch. August 13-17, 2017  Bonanza Creek Ranch, Montana 4 nights and 3 1/2 days of riding.  Limit of 8 participants $2600
ALL INCLUSIVE including lodging, meals and instruction .For more information and to register click on this link: http://www.bonanzacreekcountry.com/cowgirl-retreats/joyce-emily/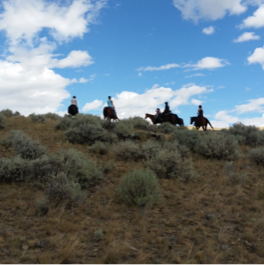 I found myself rekindling the love I have for horses. Through the teachings of Joyce and Emily, I gained the connection with my horse both on and off the ground.
Britt B.
"Joyce and Emily were a beautiful and effective tem who embodied the concepts and gifts they brought to the group.  I was buoyed by their stamina and obvious joy in their work.  I was challenged and supported physically, emotional, and mentally to discover my deepest, truest, self."
Deb J.
Women's Connection Evenings
Once per month, Unbridled Possibilities in conjunction with Wisdom Within Us, holds a Women's Connection evening. In this group. In this unique setting you can experience the Wisdom of Horses with like-minded individuals in a safe environment. The Women's Connection groups will be the 1st Wednesday of each month from 7PM to 9PM starting March 2nd. The meetings will be held at Unbridled Possibilities in Pasadena, MD and at Airy Hill Stables in Chestertown, MD.  $30 per person and you must pre-register.
Women's Connection evenings will start again in April. Watch our 2017 schedule for more information.